The future of communication for your school
Contact us
Introducing multi-language content, automatic translations, and magic links.
Communication simplified
Trivory makes it easy to get information out to students and families so they always stay in the know with everything going on at school.
Create text, image, and video posts with links and attachments. Make it easy for student to find upcoming events and activities.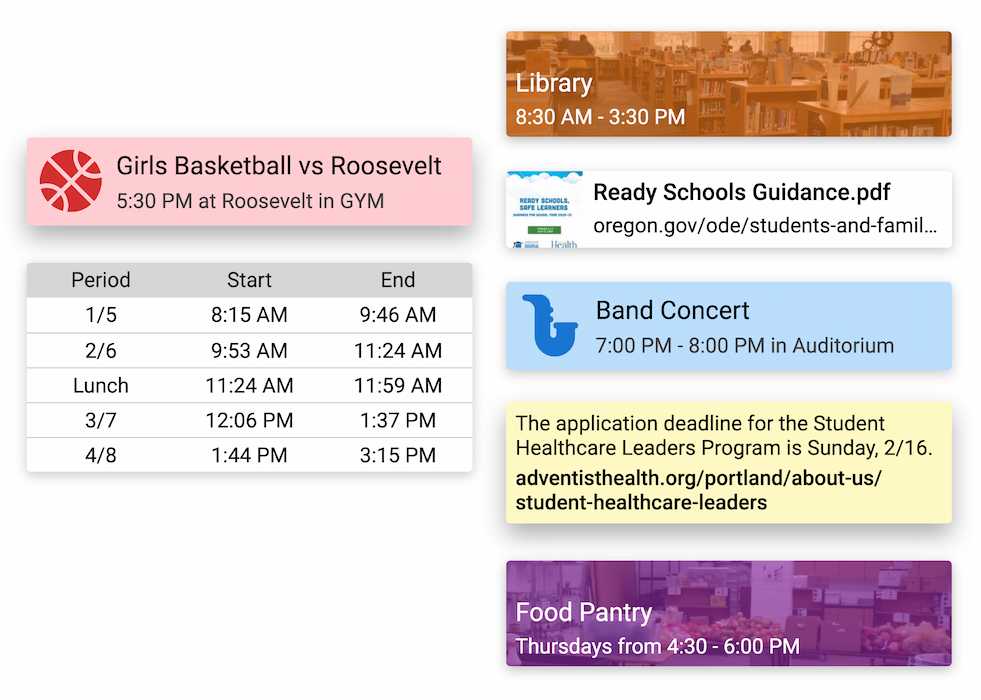 "I see Trivory as an integral part of our open communication with students and families. Setting it up is easy, and the cost can't be beat!"
KD Parman
Principal at Roosevelt High School in Portland, OR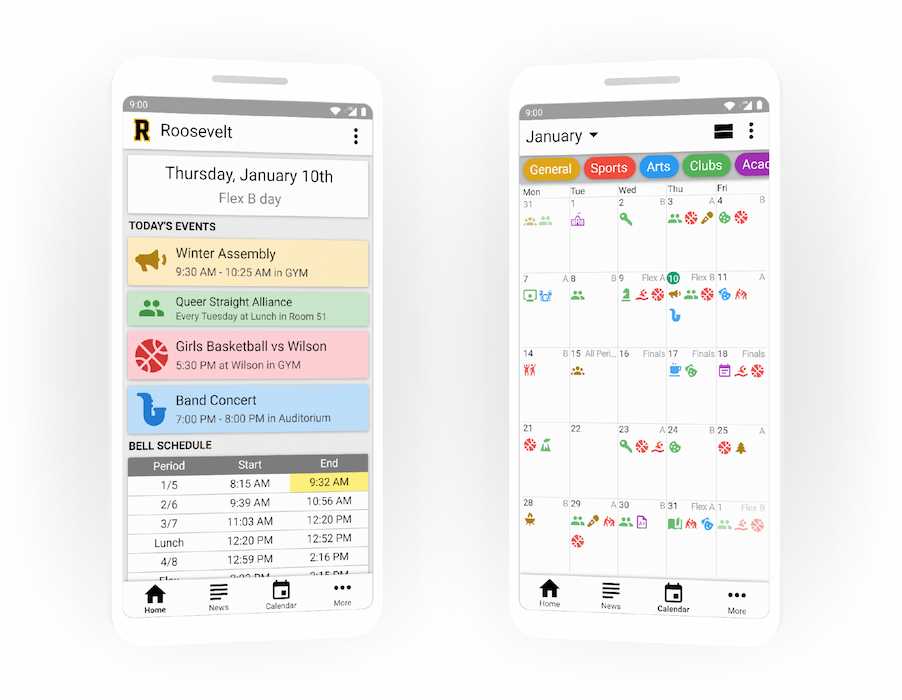 An essential tool for students and families
Trivory has all the features that students and families love. The staff directory makes it easy to find teacher contact information. The resources section houses important links and files, and information about programs and places.
"Trivory is like an alarm clock and a newspaper right on our phones. It shows our students all the cool things going on today at school, and gives staff an easy way to get info to students & families quickly."
Kim Castle
Data Analyst at Roosevelt High School in Portland, OR
Meeting students where they are
Students and families are using their phones more than ever, and for everything. Trivory gives your school a mobile presence, putting your content at their fingertips.
Trivory works across devices, and supports modern features that students and families have come to expect out of their apps.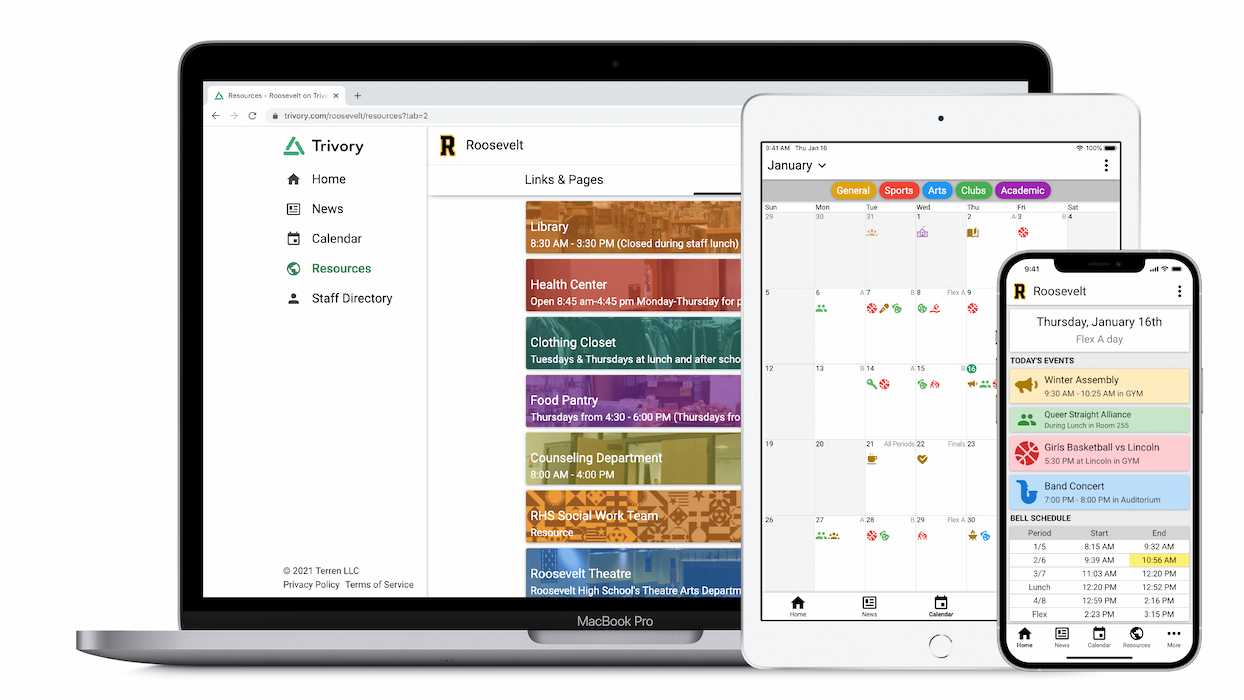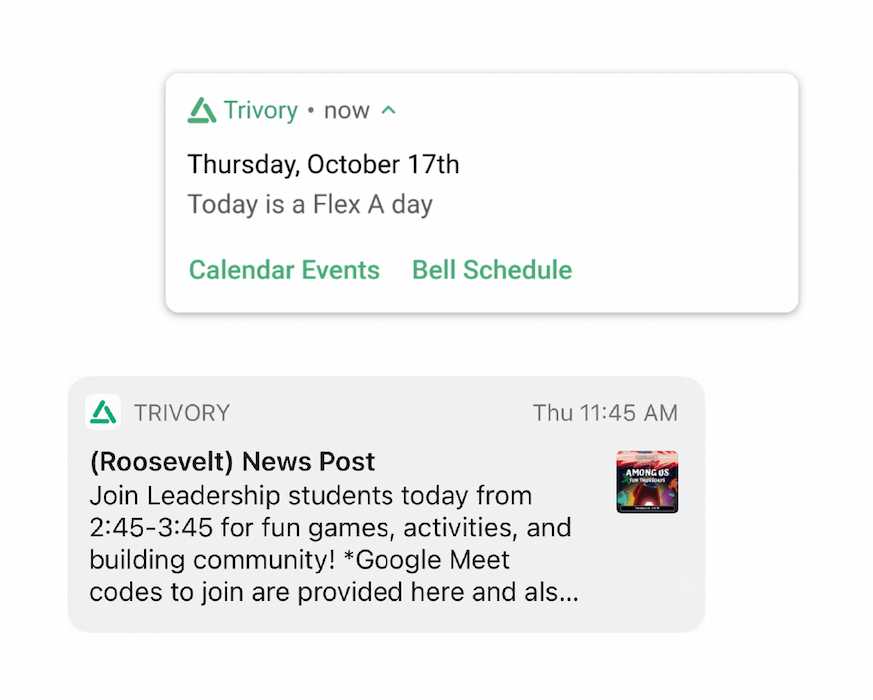 Increase engagement with mobile notifications
Send notifications directly to phones, instantly. Easily target news, events, and reminders to certain groups or grade levels.
The daily notification helps make sure students never forget if it's an A day or a B day.
Meet the easiest dashboard you've ever used
Simple yet powerful
The dashboard is designed with schools in mind. It's intuitive and user-friendly, which makes updating content a breeze.
It's fast, and works across devices so you can quickly update content on the go.
The dashboard makes it easy to delegate access and set focused user permissions.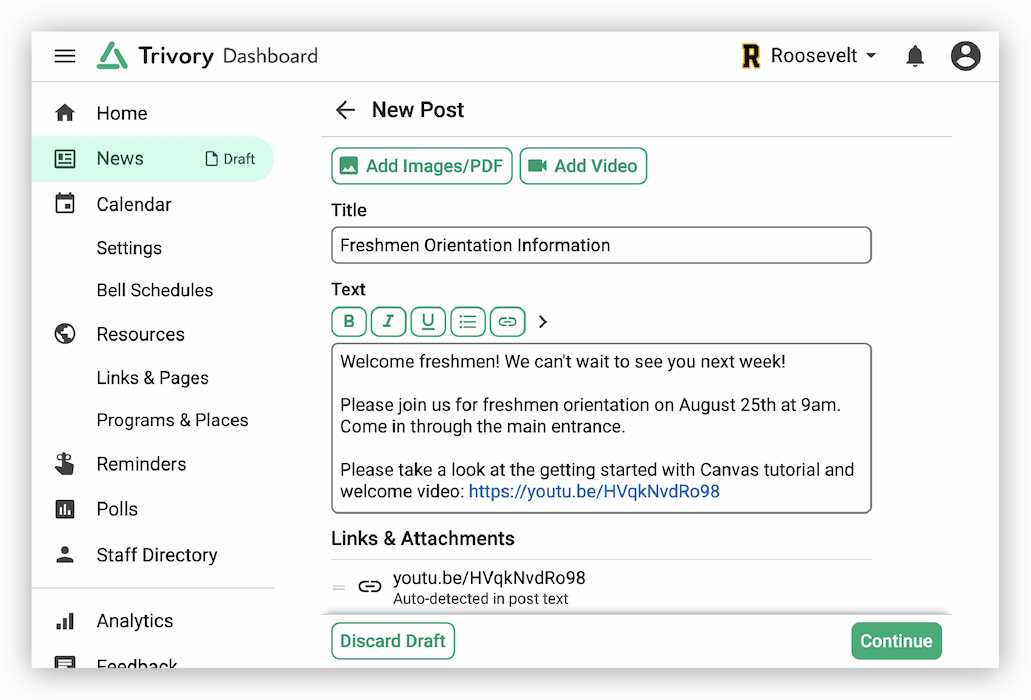 "Trivory has been an awesome addition to our suite of communications and works in a seamless way with the rest of our systems. ... From an editing standpoint, adding news stories, pushing out surveys to students or changing the bell schedule could not be easier."
Christopher Brida
Vice Principal at Lincoln High School in Portland, OR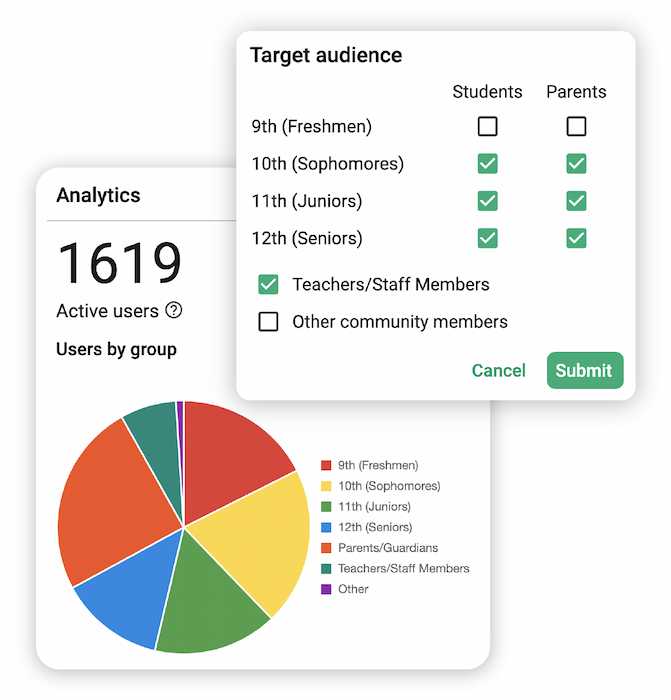 Understand and engage your audience
Easily define target audiences to make sure information is sent to the right people.
Connect with your incoming freshmen, keep your seniors on track to graduate, and increase parent engagement.
"I am so impressed with Trivory and the ease with which I can get information out to my community. So many school communication tools look good on the consumer end but are a nightmare to navigate and update. The Trivory dashboard is just as easy and elegant to navigate as the application and allows me to give access to staff to update their program information for our school community. This ensures that our information is always accurate and accessible. There are so many times that I have thought, 'I would love to see this feature' and then I open up the dashboard and it's there."
Amy Whitney
Principal at George Middle School in Portland, OR
Ready to streamline your communication?
Contact us